SEPTEMBER 2020 | GERMANY | PRESS
Press release from APEX Energy Teterow GmbH September 2020
APEX Energy and Siemens SI sign a 2-stage project development contract for a CO2-neutral future at the Rostock Laage location
Rostock-Laage, September 2020 - APEX Energy Teterow GmbH and Siemens Smart Infrastructure have signed a project development contract to advance the joint development of sustainable energy supply at the Rostock-Laage location. The purpose of the two-stage project development is to develop an implementation concept adapted and coordinated to the needs of APEX Energy Teterow GmbH as an Energy-as-a-Service model with regard to the ecological, economic and regulatory framework.
Project stage 1: On May 26, 2020, APEX Energy Teterow GmbH and Siemens SI signed a Letter of Intent (LOI) on the development of an electrolysis system at the Rostock-Laage location with a starting capacity of at least 20 kg / h. The core element is the PEM electrolysis from Siemens, which generates hydrogen, oxygen and heat for a wide variety of applications in infrastructure, energy generation and mobility.
Project stage 2: On July 30th and 31st, 2020, both parties signed the project development contract in order to configure and then implement the detailed planning, simulation and design of the plant for efficient and green hydrogen generation with a capacity of up to 340kg / h.
APEX Energy Teterow GmbH and Siemens are once again underlining their efforts to promote decarbonization and to achieve a CO2-neutral future based on hydrogen.
Company profile APEX Energy Teterow GmbH
APEX Energy, with its headquarters in Rostock-Laage, is the right contact for all questions about the use of hydrogen. As part of the APEX Group, our teams concentrate on project planning, planning and construction including the operation of tailor-made hydrogen energy solutions. With our own APEXIS hydrogen storage system, energy can be made available at any time. In close cooperation with universities and colleges, APEX is researching to increase efficiency and system efficiency. With a focus on commercial hydrogen systems, APEX Energy makes its contribution to the emission-free energy supply of the future.
Company profile Siemens Smart Infrastructure
Siemens Smart Infrastructure (SI) is shaping the market for intelligent, adaptable infrastructure for today and for the future. SI aims to address the pressing challenges of urbanization and climate change by connecting energy systems, buildings and economic sectors. Siemens Smart Infrastructure offers customers a comprehensive, end-to-end portfolio from a single source - with products, systems, solutions and services from the point of generation to the use of energy. With an increasingly digitized ecosystem, SI helps its customers to be successful in competition and society to develop further - and thereby makes a contribution to the protection of our planet: SI creates environments that care. The company employs around 72,000 people worldwide.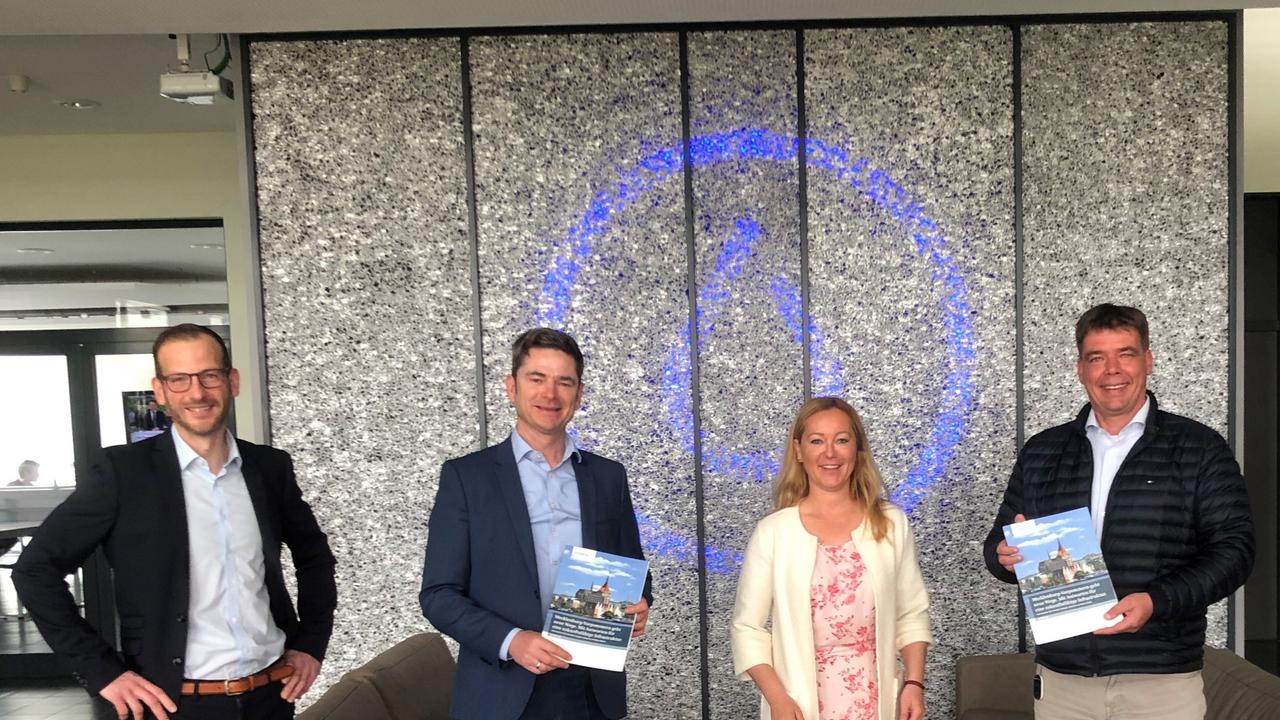 Photo from left to right: Birger Habel (portfolio manager Energy Performance Services, Siemens Smart Infrastructure) Frank Haacker (spokesman for Siemens Rostock branch), Silvia Kohlmann (managing director envitecpro GmbH and environmental technology network enviMV e.V), Mathias Hehmann (managing partner APEX Energy) .
Press Contact: Jörn-Philip Pfeiffer, joern-philip.pfeiffer@apex-energy.de, Tel .: 0049381 7999 020 or 0049152 3393 0951.