DEZEMBER 2020 | GERMANY | AWARD CEREMONY
Makers of the year 2020 special prize "Future"

At the end of the year, the corona pandemic is drawing attention to those people who showed a big heart or did exemplary things during the crisis. In Hamburg some of them have now been honored with a prize by the TV program guide rtv and the Face-Club.com network. Under the patronage of the First Mayor of the Free and Hanseatic City of Hamburg Dr. Peter Tschentscher was awarded the "Makers of the Year" award to people, companies and non-profit initiatives who demonstrated community spirit, resourcefulness and drive during the Corona crisis. The award was given in the categories "Prominent Makers", "Companies" and "Charity Initiatives". In addition, two special prizes were presented in the "Charity" and "Future" categories.........

Hinnerk Baumgarten and CEO Mathias Hehmann | Fotocredit: offenblende.de | Marc Metzler
...... All 22 nominees developed and implemented an idea during the pandemic with which they not only set a sign of solidarity, but also provided very practical help. A jury made up of entrepreneurs, ten editors-in-chief from well-known German media and celebrities from film and television decided who was allowed to receive the award. "That such an event is possible - with a distance and without guests - despite the restrictions caused by the corona pandemic, is a good sign in gloomy days," said NDR presenter Hinnerk Baumgarten, who led the program. Organizer Sören Bauer emphasized: "We need good news, we read bad news every day anyway!" "A lot is possible if you don't withdraw but take the initiative to master the situation with new ideas," said the patron of the award ceremony Dr. Peter Tschentscher, First Mayor of the Free and Hanseatic City of Hamburg, in his congratulations to the award winners. "I am sure that individual ideas that arise during these times are so good that they will last beyond the corona pandemic." The sponsors of the award not only wanted to look back, but also to look forward. "There are challenges and problems that already existed before Corona," said organizer Sören Bauer, "only they are currently less of a focus of attention. This includes, for example, climate change. " What could be more obvious than honoring a pioneer in the CO2-neutral energy supply sector? The energy service provider "Apex Energy Teterow GmbH" has put Europe's largest grid-connected hydrogen plant into operation in Rostock-Laage in order to supply the entire site with CO2-neutral energy For this, the company received the special "Future" award as "Maker of the Year." Actor Hannes Jaenicke from Munich was present as the laudator.
Award Ceremony Macher des Jahres 2020 | Credit: moviemeetsmedia.de
Like no other representative of the entertainment and TV industry, he stands for commitment and know-how in the field of environmental protection and sustainability. In his laudation, Jaenicke emphasized the importance of hydrogen for the generation of green energy. With its innovation, Apex Energy is proving that a Co2-neutral energy supply is possible and that fossil fuels can thus be replaced. "Hats off, keep it up!" Said Hannes Jaenicke. "Politicians can learn a bit from their pioneering spirit!"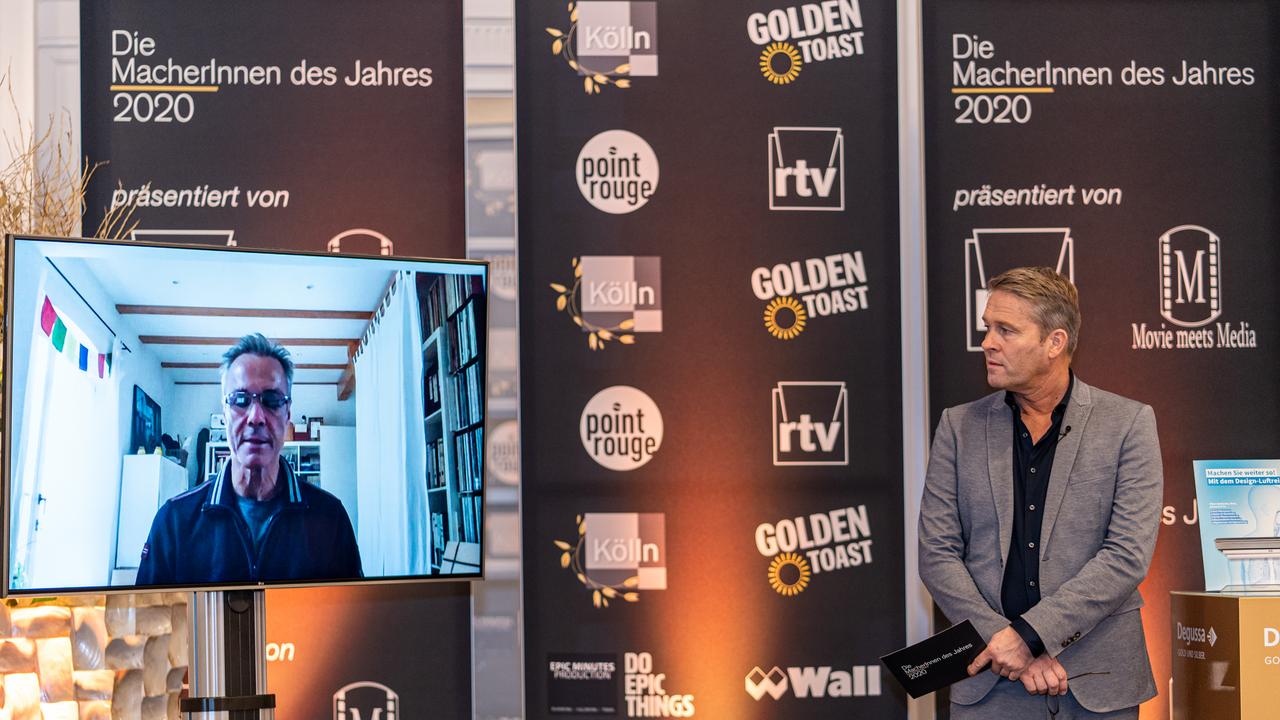 Moderator Hinnerk Baumgarten and CEO Mathias Hehmann as well as CFO Peter Rößner | Fotocredit: offenblende.de | Marc Metzler
APEX Energy Managing Director Mathias Hehmann and Managing Partner Peter Rößner were delighted with the award and the prominent laudator with whom they agreed to visit the company's headquarters in Rostock. Because APEX Energy still has big plans. "We are at the beginning and not at the end of a groundbreaking development."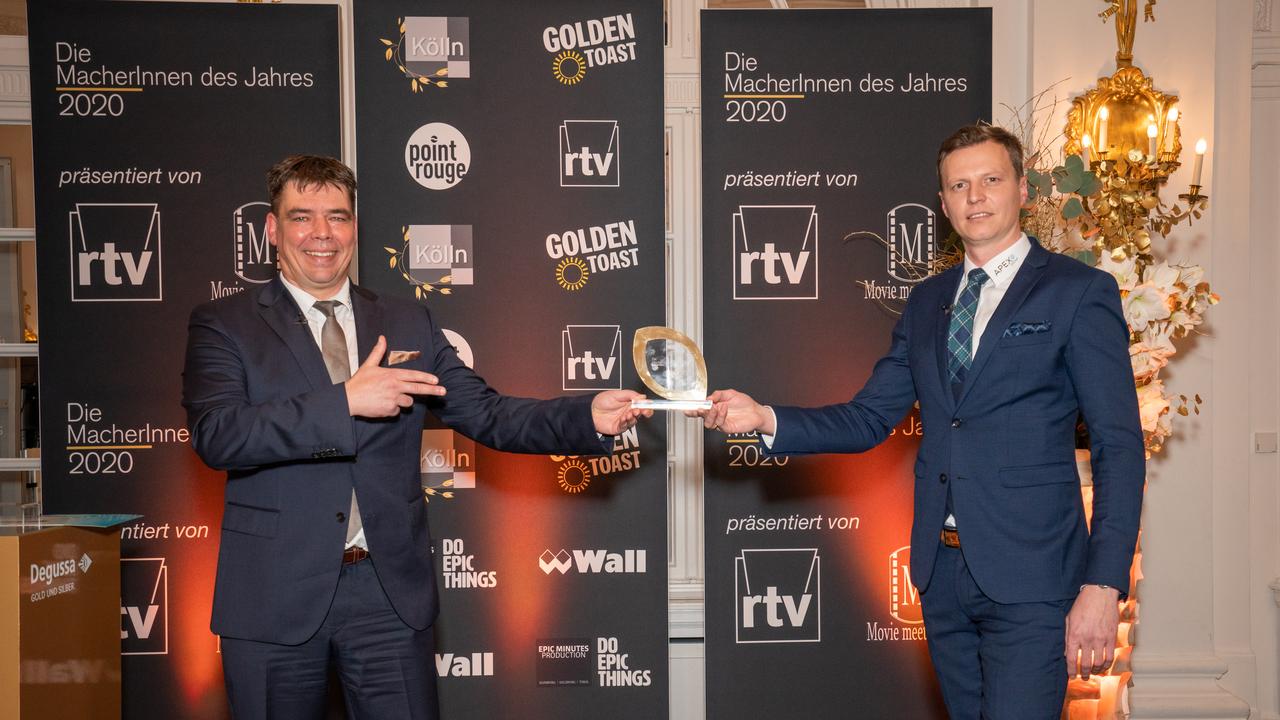 APEX Energy Teterow GmbH CEO Mathias Hehmann and CFO Peter Rößner | Fotocredit: offenblende.de | Marc Metzler